Local, provincial, and national Arts organizations Consider how a new Performing Arts Centre would benefit our community
BALLET KELOWNA
New space contributes to cultural vibrancy and civic pride
Our performing arts community has reached its creative and productive capacity in terms of the scope, volume, and quality of performances it can deliver in the community. It is time for a new multi-purpose performing arts centre that supports innovative productions and that is accessible and inclusive for both audiences and performers. A new performing arts centre will increase the cultural vibrancy of our city, stimulate cultural tourism, build civic pride, and bring more arts experiences to the Central Okanagan.
Ballet Kelowna supports the Citizens for a New Performing Arts Centre Society and we look forward to working with the organization to bring the dream of a world-class venue to life. 
— Simone Orlando, Artistic Director and CEO
KELOWNA ART GALLERY
Investment in Arts facilities supports artists, citizens, and visitors
Those working in the visual and performing arts, together with the greater community, will all benefit from the many opportunities a new and purpose-built cultural facility will bring to the region…At the Kelowna Art Gallery, we look forward to the elevation of our cultural landscape through the realization of a world-class Performing Arts Centre.
ROTARY CLUB OF KELOWNA
A new Performing Arts Centre would energize the community
We feel that a new Performing Arts Centre would be a credit to our community, enhance the entire Cultural District, and complement existing facilities, such as the Okanagan Library, Kelowna Art Gallery and the Rotary Centre for the Arts. The professional performing arts organizations are incubators for up and coming musicians and dancers who live here and need support and coaching in their developing years. As well, they need to be able to experience excellence in performances here, to guide them into the future…This is an opportunity for signature architecture in the core of the city which announces that Kelowna is an important centre for professional performing arts.
— Members of the Rotary Club of Kelowna
KELOWNA NEWCOMERS ALUMNI CLUB
Enjoying world-class performances in our own city
I feel that a larger, modern Performing Arts Centre would also encourage or provide better opportunities for local performers across the Arts to hold events in our city. A new theatre would allow Kelowna to attract more performers and artists to come here.
KELOWNA COMMUNITY CONCERT ASSOCIATION
Critical support for cultural tourism
Over the years we have witnessed the City of Kelowna continue to lag far behind other world cities in recognizing the economic value of an iconic performing arts centre to cultural tourism. Such a venue would be particularly significant in presenting itself as a lens through which people around the world would see a city that recognizes culture as a core value of its citizens.
ROCKLANDS ENTERTAINMENT CANADA
Tremendous potential for top-tier venue
I have always considered Kelowna to be on the top-10 list of places I produce shows across Canada …I personally feel that Kelowna is a great market for the arts. With its ever-growing population, the need for a world-class facility is, without a doubt, nothing but positive news….
The potential is there to have this proposed venue be the best in North America. With some great planning, advice and determination, you can't lose.
— Brian Edwards, President and CEO
THE CANADIAN SCHOOL OF BALLET
Retain community theatre while new KPAC to be built
The Canadian School of Ballet, along with many other local dance studios, have been using [the Kelowna Community Theatre] to hold yearend shows for many years….[It] is of the utmost importance that we are able to continue to use this venue while a newer Performing Arts Center is being built.
KELOWNA ACTORS STUDIO
Welcome change to artistic landscape
A larger theatre with more seating and larger lobby and front of house space is definitely needed. We believe that this project will create some remarkable changes in Kelowna's artistic landscape and will benefit the entire community.
WENTWORTH MUSIC SCHOOL
Vital experience for music students
Wentworth Music School understands the importance of giving music students performing experience and have been producing sold-out concert productions at the Kelowna Community Theatre since 2007 that have raised over $258,000 to help children and their families in our community. We fully support your vision of a new multi-stage performing arts centre for Kelowna within 5 years…The Covid-19 shutdown has shown how difficult it is for ALL of us when live entertainment is taken away, even for just a few months.
CHAMBER MUSIC KELOWNA
New space to showcase excellence
We are very aware. . . of the limitations, both as to capacity and acoustics, of the Kelowna Community Theatre. It should be succeeded by a larger, better-equipped facility which can reflect the rapidly-growing and dynamic population of Kelowna and the increasing level of artistic excellence achieved by our local producing groups, Ballet Kelowna and the Okanagan Symphony.
OKANAGAN FESTIVAL SINGERS
New space would attract world-class talent
A city the size of Kelowna needs a quality performing arts centre to accommodate a very active local arts community as well as attracting world-calibre visiting artists and groups.
OKANAGAN CHILDREN'S CHOIR & OCC YOUTH
New performing arts space to invigorate arts community
Kelowna has much to offer the arts community, with many wonderful musicians and ensembles. But what we do not have is a high-quality performing arts centre….One only needs to look as far as Vernon to know just how invigorating a good performing arts space can be for an arts community.
BC INTERIOR JAZZ FESTIVAL
Challenge of limited performance venues
As the Coordinator, and now Artistic Director, of the BC Interior Jazz Festival for the past fifteen years, dealing with the challenges of Kelowna's limited performance venues has been extremely difficult. Guest artists from across North America love coming to the Okanagan for the people and the gorgeous scenery, but they find our theatre and our arts facilities to be memorable for all the wrong reasons.
— Craig Thomson, Artistic Director and Yamaha Artist Educator
THE LANTERN FOLK ROOTS MUSIC SOCIETY
Welcome boon for smaller productions
Lantern Folk Roots is focused on more intimate performances, so it is unlikely that we would bring in an artist that would fill the new proposed main large theatre. However, a new venue will make the remaining smaller performance facilities more available, and possibly more affordable for the types of performances that we bring to Kelowna. A new Performing Arts Centre could also include some smaller studio spaces that could work for us and help us to draw people to the new facility.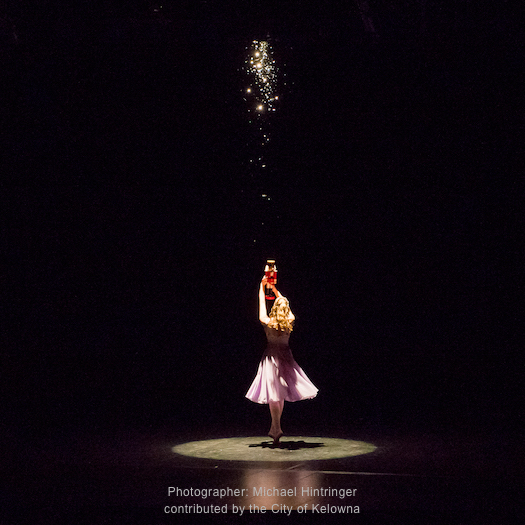 KELOWNA COMMUNITY MUSIC SCHOOL
Creating vast opportunities for the arts
A new performing arts centre would have a direct, positive and considerable impact by increasing vibrancy in our cultural district, thus contributing directly to the local economy through increased footfall in the area.  Not only would it serve to attract high-profile performers, but it would also create untold opportunities for our students and the local arts community through the pure joy of performance, education, outreach and beyond.
— Lucy Benwell, Executive Director
GERONIMO INC.
City losing out on top events
If Kelowna had a newer, larger theatre with more seating, better modern acoustics, larger lobby and front of house space, larger and modern back of house, etc. there are several shows that I have brought to the Okanagan and British Columbia, that I would have done in Kelowna instead of passing the city by.
SPECTRUM SINGERS SOCIETY
Exciting project to support
We are very excited to hear about the efforts of the Kelowna Citizens for a New Performing Arts Society and we definitely support your efforts to create a world-class facility for the arts in Kelowna.
MUSIC AND THEATRE PROMOTER
Vital to keep up with the times
Since theatre drives economic growth, urban renewal, and fosters technological innovation, it would seem a given that we keep up with the times. Technological innovation is also having an effect on theatre design as well as on stage and behind the scenes. Kelowna needs a new facility.
— Ruth O'Doherty, former BC Manager, Worldwide Music Ventures
CANADIAN FEDERATION OF UNIVERSITY WOMEN
Arts enrich quality of life of citizens 
The arts develop and stimulate the minds of people, regardless of age. They bring a greater understanding and appreciation of various cultures. The arts help a young mind and body to grow. The arts enrich our quality of life….It is our hope that City Council will work with the [Friends of a new KPAC] society to bring about a facility to meet the needs of the various artistic groups who would perform here as well as the community who would access it.
HELP MAKE THIS DREAM A REALITY
This page is all about the benefits that a new Performing Arts Centre would bring to the people and the businesses of Kelowna and the Central Okanagan.
Please consider becoming a supporter. Just sign up to our mailing list, and we'll keep you informed of the progress of this important initiative.